Persecuted and displaced persons of National Socialism were questioned about their experiences very late in Austria. For several decades, memoirs of contemporary witnesses have been a self-evident and indispensable part of historical representations, of school and extracurricular education, and of the diverse culture of commemoration. The specificity of this particular form of source material requires critical reflection. 
A contribution by Victoria Kumar. Translated by Hilde Mayer
On the nature of memory
"Human memory is a wonderful but unreliable instrument. This is a well-worn truth, familiar not only to psychologists but also to anyone who has turned his attention to the behavior of those around him or to his own. The memories that lie dormant within us are not set in stone; not only do they show a tendency to evaporate over the years they often change or even become more extensive, incorporating extraneous traits."[1] In his last work, The Drowned and the Saved, the Italian Auschwitz survivor, chemist, and writer Primo Levi (1919-1987) traces the nature of memory and describes the poor reliability of our memory. Even under "normal" circumstances, memories do not resist certain evaporations and clouding; if traumas and extreme experiences were suffered, distortions and/or repressions can be added. Frequent visualization keeps memory fresh, but for Levi it is equally true "that a memory too often evoked and presented in the form of a narrative tends to congeal into a stereotype, that is, a form tested by experience, deposited, perfected, and embellished, taking the place of the original memory and thriving at its expense."
In Levi's text, the processual, contradictory, and erroneous nature inherent in remembering is demonstrated, and stands in stark contrast to the authenticity and authority that has often been and continues to be ascribed to memory sources. The fact that the view of the past is constantly changing and that the process of remembering is to be understood as a process of construction – constituted by psychodynamic mechanisms, temporal stratification, the present perspective of the narrator – is also addressed in other reports by the rememberers themselves.
One often doesn't know anymore, did I only hear that or did I really experience it?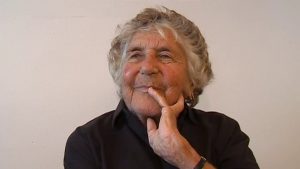 Renée Wiener at the interview in New York 2008
Thus the Jewish resistance fighter Renée Wiener writes in her extraordinary and impressive biography A rebel from the start about memory: "One often doesn't know anymore, did I just hear that or did I really experience it? Sometimes you remember things that you can't have experienced yourself because the time frame or the place seems impossible. Sometimes you form a memory that you like better or that is easy to live with."[2] The book is based on interviews with Renée Wiener conducted by historians Maria Ecker-Angerer and Albert Lichtblau in New York in 2008 and published on the online platform developed by _erinnern. at_ called weiter_erzählen.[3] Both in written and audiovisual form, Wiener's life story makes clear the relevance of survivors' narratives not only for the reconstruction but also for the mediation of the Nazi past and the remembrance of it: With a very precise, self-reflective and partly unsparing language, she shares her personal experiences and reveals how escape and resistance from the Nazi persecutors – in Wiener's case in the Résistance – were possible. The memoirs of survivors serve as an important source for historical research and are a significant contribution to the critical consciousness of future generations, as this specific form of source makes an immediate and very personal dimension of history perceptible. 
The processing, documenting and making accessible of life stories
The first tape recordings of survivors' accounts were made immediately after the war. In 1946, David Boder, a Lithuanian-born Jew, interviewed hundreds of Jewish survivors in Displaced Persons camps, where several million people waited for repatriation to their countries of origin or emigration from Europe after the war. Literary sources of memory also emerged early on; however, they were little received in post-war societies.
The public's interest in the experiences and stories of those persecuted and displaced by National Socialism was generally low for a long time and limited to certain groups of victims. As early as 1954, the Contemporary Witness Archive was founded in Yad Vashem – in the mid-1990s, it counted more than 6,000 testimonies. Beginning in the 1980s, video interviews with Jewish survivors were created, initially in the United States: The Fortunoff Video Archive at Yale, the Holocaust Memorial Museum in Washington, and finally, on an impressive scale, the Survivors of the Shoah Visual History Foundation, founded by Steven Spielberg, whose archive is located at the University of Southern California, initiated a collection movement that was imitated somewhat later on the European continent.
A large pool of memory was created in which narratives different from those that had previously entered or supplemented the general historiography.
Since 1982, life history interviews have been conducted in Austria at the Documentation Center of Austrian Resistance under the title Narrated History with more than 2,000 people who were persecuted and/or were in the resistance during the period from 1934 to 1945. In the 1980s, a new generation of historians specifically encouraged Holocaust survivors to speak about their lives. "The Jewish survivors of concentration camps and the Jews who had fled abroad, who were now scattered all over the world, were to be brought into the collective Austrian memory by the second generation and thus symbolically 'brought home' again," Margit Reiter looks back on the beginnings of oral history in contemporary Austrian history. [4] "A large pool of memory emerged, in which other narratives than had previously found their way into the general historiography or supplemented it." Large-scale interview projects with survivors were carried out by the National Fund of the Republic of Austria for Victims of National Socialism, as part of the Mauthausen Survivors Documentation Project, the Austrian Heritage Collection of the Leo Baeck Institute in New York, and – in connection with the development of teaching materials – by _erinnern.at_. Often supported by civil society, regional projects, numerous memorial initiatives arose in parallel and artistic interventions and commemorative signs were initiated at Nazi victims and sites of Nazi terror.
While historiography was previously based primarily on the perpetrators' accounts, the perspective shifted to the victims' accounts after the Waldheim debate in 1986 and in the course of the "Year of Remembrance 1988" – 50 years after Austria's "Anschluss"; the"annexation" to the German Reich – which was so important for the collective memory. In this context, Heidemarie Uhl also points to a changed understanding of the significance of these testimonies: "Their source value does not primarily lie in opening up new insights into "factual history", but in making the process of narrating and remembering traumatic events visible."[5]
Speaking and silence, processing and clarification
Ilse L. at the interview in New Haven 1984
Both the life-history interviews and the autobiographical texts mostly revolve around three larger thematic complexes: life in Austria before the "Anschluss", persecution, expulsion and flight, as well as new beginnings and future life in the respective country of exile. In most cases, the relationship to Austria was also addressed. Many of the contemporary witnesses interviewed were ambivalent about remembering and telling their stories: It was often difficult and painful to report publicly on what they had experienced; at the same time, there was a desire – not infrequently motivated by their own children or grandchildren – to bear witness and to send a message specifically to future generations. This ambivalence also becomes clear in the interview with Ilse L., who fled from Vienna to the Netherlands: "One of my daughters is a psychotherapist and she is mostly interested in my background. As a matter of fact, she started to tape me once and asked me questions … I told my story in Washington, when I was there for the Holocaust survivor's conference, and I have that on tape … and now I am being taped here. … The only reason I do it is for future generations to know that this had happened and that it should never happen again. Why should I go through this? I am only doing it for that one purpose. It's not necessary. I am perfectly happy otherwise …"[6] 
The generational transition from individual memory of experience to cultural memory, which will very soon have to do without living eyewitnesses, makes new forms of dealing with National Socialism and teaching history necessary. This is probably one of the reasons why more and more online platforms have emerged in recent years that provide interviews with contemporary witnesses. For example, the aforementioned website weiter_erzählen currently makes almost 200 video interviews with victims of National Socialism who have a connection to Austria available to the public, and especially to schools, in a keyworded and sequenced form. As an answer to the question of what will happen when the survivors can no longer tell their story, archival, technical and digital possibilities provide at least partial answers. _erinnern.at_ is, for example, currently exploring new and additional avenues in a working group launched in 2019, in which the possibilities of school interviews with "contemporary witnesses of the second generation" are being discussed and pedagogical recommendations are being developed. Descendants of those persecuted under National Socialism are already conveying the survival stories of their parents or grandparents to schoolchildren in various formats.
The fact that scientific research, commemorative projects, exhibitions, and teaching and learning materials about National Socialism and the Holocaust can be based on the memories of survivors has only been made possible by the willingness of so many contemporary witnesses to talk publicly about what happened to them and to have their stories recorded. The voices of the witnesses will not be silenced, provided they find a receptive audience.
Information on the author: Victoria Kumar is a historian and research associate at _erinnern.at_
Literature:
[1] Primo Levi, Die Untergegangenen und die Geretteten, München 1990, S. 19f.
[2] Renèe Wiener, Von Anfang an Rebellin, Die Geschichte einer jüdischen Widerstandskämpferin, Wien 2012, S. 230.
[3] https://www.weitererzaehlen.at/interviews/renee-wiener_1
[4] Margit Reiter, "Der Zeitzeuge als natürlicher Feind des Historikers"? Eine Reflexion über Oral History. In: Regina Thumser-Wöhs et.al., Außerordentliches. Festschrift für Albert Lichtblau, Wien 2019, S. 194.
[5] Heidemarie Uhl, Vom Pathos des Widerstands zur Aura des Authentischen. Die Entdeckung des Zeitzeugen als Epochenschwelle der Erinnerung. In: Martin Sabrow/Norbert Frei (Hg.): Die Geburt des Zeitzeugen nach 1945, Göttingen 2012, 235f.